a company passionate about
healthcare
content
trust & respect
Working in healthcare is a privilege and the trust and respect patients provide their HCP'S is where it begins. It becomes a responsibility that trickles down to everyone working in the healthcare community. STANDARD HEALTH is proud to honor that trust and respect for our patient audiences, and also for our clients and collaborative partners.
These core principles motivate us to create work that helps the greater good.
It's a simple moral equation that benefits everyone.
We had the narrowest of windows to capture one of life's greatest moments - an hours-old newborn cradled by a proud new-mom. And while the baby drove the schedule, we drove St. Catherine's story as one of Long Island's only Baby First Accreditations.
St Catherines of Sienna Hospital, Long Island, NY.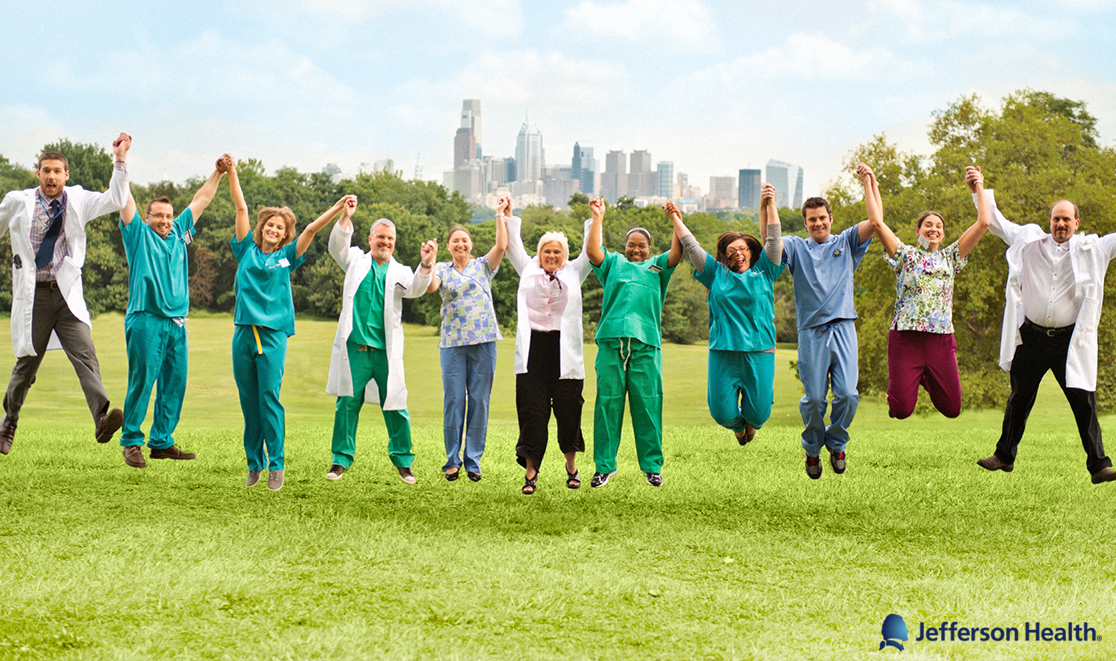 Jefferson has been a client so long we would call them partners and friends. A goal we have for every one of our clients.
Jefferson Hospital Systems, Philadelphia, PA
Traveling domestically and internationally to capture patient stories with CTCA has humbled us. No matter the country or location, the strength and resilience people display when faced with a difficult diagnosis will always be inspiring.
Cancer Treatment Centers of America, Phoenix Arizona
Working with professional companies that are passionate about their patients and end users is exhilarating. It is an integrity that's contagious and offers a unique satisfaction that differs from other industries.
(pictured right) a set build for Alcon Eye Care, New York City.
is a division of STANDARD PRODUCTION COMPANY. We maintain seasoned healthcare-dedicated directors, photographers and medical animators that understand and appreciate the regulatory processes and restrictions specific to the healthcare industry. Together, we're able to work creatively to provide innovative solutions for every project.
We specialize in broadcast productions, doctor/patient interviews, motion graphics, medical story telling, still photography and KOL's. Often finding inspiration from our consumer division, Standard Health offers unique perspectives that ad agencies, pharmaceutical and healthcare systems rely on as comprehensive solutions for visual storytelling and messaging goals.
There are 2 people that touch every project that come in the door: Chris and Ryan.
Chris is the executive producer of STANDARD HEALTH. A successful photographer with a 15+ year portfolio and a degree in marketing, Chris understands business and industry. Chris also directs many of SPC's spots. Connecting with subjects in his photography has lent itself well to being compassionate with patients on film. Since healthcare is one of his passions - it motivates him to use his knowledge and talent to further help organizations on the cutting edge of medical technology.
Ryan is STANDARD HEALTH's Senior Editor. With Chris, Ryan oversees every project that comes through the door and manages the editing team.
Editing is crucial when dealing with MLR, regulatory and our clients. Ryan's deep editing experience enables him to see projects with the same scrutiny as a legal review team.
One of Ryan's unique talents is color grading - giving depth of color, warmth, brightness, and authenticity to a story being told in moving pictures. It is often the most important part of the process, and one of the most subtle, but important, ways STANDARD HEALTH stands apart in our industry.
concept | production | post
concept | production | post
Concept | Production | Post
Concept | Production | Post | 3D
production | post | animation
concept | Production | Post | 3D
Concept | Production | Post
BUSINESS INQUIRIES
Chris@StandardProduction.com
267-334-1875
EMPLOYMENT & INTERNSHIP OPPORTUNITIES
Info@StandardProduction.com
NYC
154 W. 14TH ST. | 2ND FLOOR
NEW YORK, NY 10011

PHILLY
1509 MORAVIAN ST.
PHILADELPHIA, PA 19102